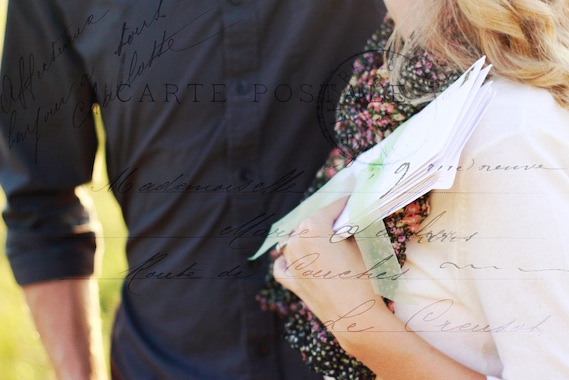 (From Josh's Perspective)
In Genesis 22:10, the Hebrew word for "stretched forth" also can mean "dismiss." The context of this passage is talking about Abraham taking his son Isaac to the altar, and stretching forth his hand to slay his son because God told him and Abraham wanted to obey. Abraham had come to the point where he had literally turned his back on the gift God had given him, because he wanted to follow Him with everything he had – even down to the gifts that God had given him. I remember calling my parents in late September and saying that I felt God was leading me to lay my friendship with Brooke on the altar. In a lot of ways, the friendship between Brooke and I was a gift that I didn't deserve.
Brooke had left for the first His Little Feet tour in late 2010, and I stayed around at Ellerslie doing film. It was right around October 2010 when I had the score for The Gospel put in my hands. I was asked to direct/produce a film to go with this powerful one-two punch of an amazing film score and anointed teaching. It took around 6 months to produce the film from start to finish because there were only a handful of people working on it for some of the time, and one or two people working on it for most of the time. It was during this point that I had begun to lay Brooke on the metaphorical altar of my life. Now that she was off campus, and because God was working in my life in regards to our friendship, I felt that we were not supposed to talk as much as we had been. I told Brooke that I thought it would be best if we talked only once a week on Fridays for 30 minutes. Our friendship went from being "good friends" to "acquaintances" in a matter of days. But I always looked forward to Friday nights.
Those conversations were pure spiritual energy to my soul right at a time in which I was feeling inadequate for the task ahead of me. I kept thinking, "The task ahead of me is never as great as the power behind me." Those conversations were purely of God. I would pray beforehand that God would guide each word of the conversation and guard our hearts. She would share about what the Haitian kids were doing that was adorable, and I would talk about the nitty gritty details of what I was working on – from camera tests to sword-fighting rehearsals. But God began to prick at my heart. I wanted to honor Brooke in our friendship, and honor her future husband in our interactions. I delayed our Friday night conversation that week in order to pray more about it. On Brooke's 21st birthday I called her, wished her a happy birthday, and told her that I think we should stop talking on Fridays and only stick to writing letters.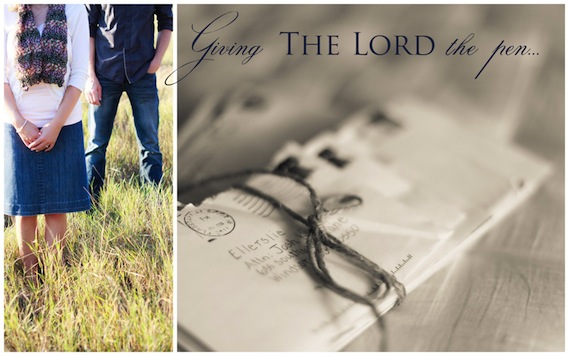 I wanted to be extremely sensitive to God speaking to me about our friendship, so I would daily lay it on the altar. The letters from Brooke came very seldom, and I was fine with that because I didn't feel as if our friendship was moving forward at all. Our letters would include bits of the Word we were studying, and things that we were learning. I remember being pressed closer to Jesus during that time because of these few letters.
Brooke wrote a letter in March saying what God was doing in her life in regards to our communication. It was a confirmation for me to understand that, and after I finished reading that letter, I texted her saying we needed to talk on the phone. During our 5 minute conversation I explained that God had been working in my life for the past few months in regards to that area as well, and as a result I felt that we should completely stop communicating until after Brooke was done with her tour with His Little Feet.
During the month and a half that we didn't talk, I had finished The Gospel and was still working on completing my responsibilities at Ellerslie in the film department. I don't remember ever thinking about Brooke at all during this time. I was able to give myself wholly to my responsibilities and the study of the Word. There were three days that I remember distinctly during this period. It was on Good Friday of 2011 that God began working on my heart. As I sat down to study the book of Matthew, I remember not being able to discern anything that I was reading. Almost as if everything was going over my head. The next day I remember being able to read the same passages and getting something out of them this time – in fact, the Word was so rich that day that I didn't want to stop reading! The next day I felt empowered and anointed to confront someone who I believed was not completely lining up with the Word of God in a certain area. Once that conversation was done, out of the clear blue, I heard God speaking to me about the friendship between Brooke and I. He said that it was time to move forward with our friendship.
What friendship? We had no friendship really for the past few months, just a handful of letters about Jesus written to each other. Thankfully Brooke wasn't on campus around this time, because I would have felt unprepared to talk to her about what God was speaking to me. Around the middle of May was when His Little Feet returned to Ellerslie's campus. Brooke and I were still not talking at this point, until one of Brooke's friends came up to me without her knowing, and told me that Brooke was confused and a little befuddled about why we still weren't talking.
On May 30th, His Little Feet was leaving to take the kids from Haiti back to their country. Everyone was busy packing, and I helped a bit with it as well. Around 11:00pm I approached Brooke and asked if she was willing to talk to me for a little bit. We went outside the dorm wing that His Little Feet was staying in and talked on the chairs for a little bit, until I decided we should call it a night so Brooke could be ready to leave at 3:00am to catch her flight to Haiti with the rest of the team. As she walked in the door I still saw that people were packing and getting everything ready to leave in just a few hours. I remember walking back to my room, and remembering what God was speaking to me about our friendship. I texted Brooke something like, "Could you come back outside? There's one thing I wanted to talk to you about that I probably would be disobedient if I didn't."
My heart was pounding out of my chest. As I was walking the few hundred feet or so from my room to the porch of the dorm, I imagined my saying what I was about to say and Brooke just running back into the dorm crying because God was telling her something opposite. What happened next is partially a blur, but partially it is crystal clear in my memory.
As I sat down to talk with Brooke, I was surprised that she wasn't out there. Her room was just 20 feet or so from the door and I walked a few hundred feet to get there. This only added to the tension. As she opened the door, we both jumped – me scared about what I was going to talk to her about, her scared because I was just sitting there. Once she sat down, I took a while to form my sentences, because I wanted to be clear about what I was saying. "God has been speaking to me about our friendship, and I believe that we are supposed to pursue a relationship intended for marriage together."
Silence.
"I could be wrong in this, but I want you to pray about it before you give me any sort of answer."
She nods.
"Okay, I think that's all I have to say."
She nods, and we both go back to our rooms.
I am thinking to myself, "What have I done?! I may have just destroyed any sort of friendship between us. What if she sticks around Ellerslie for a long time? It will be a little awkward!"
I called my dad in California to let him know what just happened. I couldn't see his face, and I don't remember much of the conversation, but I remember him saying something like, "She's a wonderful girl, your mom and I are very proud of you, and we would love to have her be a part of our family!" Cool, now I just had to figure out a way to get some sleep that night.
At 3:00am I went outside to say my last goodbyes to the little Haitian kids that were a part of the choir. I waved goodbye to Brooke.
Little did I know, I wouldn't get an answer from her for six weeks.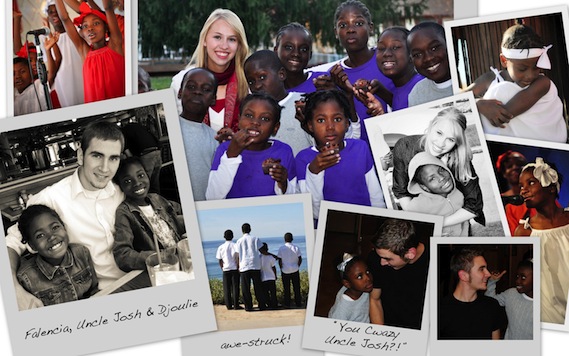 (From Brooke's Perspective)
Oh what joys, memories, laughter, and lessons came from the first tour of the His Little Feet international children's choir! The Lord had intricately placed this ministry before me and called me to serve Him and His royalty for the seasons He placed before me. All for His glory, all so that I may be transformed into a clearer picture of my Maker, this was my desire; this still is my desire, to become more and more like Jesus. So, my Lord called me into active service and I was going to serve Him with all that was within me, with all my heart, mind, soul, and strength.
A scripture that the Lord had be highlighting to me during this time is found in 2 Timothy 2:4, "No soldier in active service entangles himself in the affairs of everyday life, so that he may please the one who enlisted him as a soldier."
During the first part of the tour Josh and I decided to lay our friendship as it was, on the altar and pursue Christ at a deeper level and serve our Commander relentlessly in the areas the Lord placed before us. Mine being His Little Feet and Josh's being the Ellerslie Short Film: The Gospel, and also filming and editing Eric's sermons.
In January, Josh had a meeting with Eric about guidelines for Josh and I in the area of communication, the outcome was talking on the phone once a week for thirty minutes and handwritten letters, this became our form of communication.  I desired to be completely honorable in my interaction with any guy and I knew that Josh desired that all of his interactions with young ladies be honorable and pleasing to the Lord as well. So, when Josh told me he had talked to Eric Ludy about our interactions and communication while I was on tour it slightly confused me to say the least. You see, it seemed as if Josh had other intentions; intentions to possibly go deeper than a friendship. But, it was abundantly clear on both of our sides that there was nothing else, other than a friendship between a brother and sister in Christ who desired HIM more then anything and that everything that was going between us in our interaction only spurred us closer to our King.
Every letter I received from Josh was written with the ink other than this world. After reading a letter or talking to Josh on the phone for our allotted 30 minutes I would be refreshed and even though it was late (because I would talk to him after I put the little ones I was caring for in bed, sound asleep) I would have a hunger and a drive to dig deeper into His word. I wanted to know my Jesus the way Josh did. He challenged me, he inspired me, and he poured Jesus into me. That once a week phone call became refreshment to me. I looked forward to the short 30 minutes a week where I could share Jesus and get a new glimpse of my Jesus!
Josh called me the evening of my birthday, January 24th, 2011, and told me that the Lord had been working on his heart and he felt that we shouldn't talk on the phone anymore and that we could continue writing letters but nothing else other than that. And so, starting January 24th we stopped our 30 minute conversations on Fridays.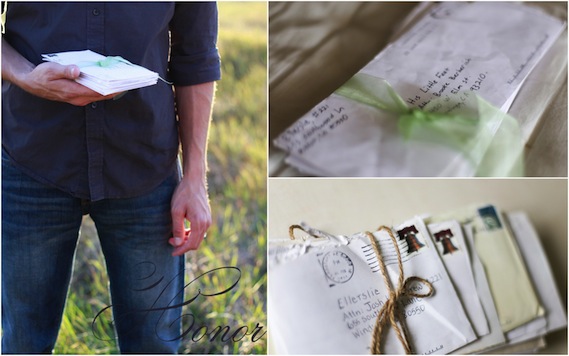 During this time I felt the Lord tugging at my heart, "Brooke, I know you desire that in all things you must honor me and honor the one I am preparing for you to be your husband. As well as honor Josh's future wife." I prayed about how I could live a life now that would show my husband that I loved him "all the days of my life" and I knew what I had to do. Even though my conversations and letters with Josh was a source of refreshment and encouragement I knew that if my future husband or his future wife saw us exchange letters or talk on the phone they may not feel cherished as they should. And so I wrote a letter to Josh expressing all that the Lord had been speaking to me about this matter. Knowing full well, the moment Josh received the letter, because of his passion for the Lord and the way in which he viewed thing from a black and white, all in or all out perspective that we would quickly cut off all communication.  A communication, though few and far between, had been a means to push me into the depths of my King. And yet, I knew He would prove Himself faithful as I obeyed.
Once Josh received my letter about what the Lord had been speaking to me he sent a text to me saying we should talk on the phone. We hadn't talked on the phone for at least three months at this point in time. To this day, I remember the state, house, and room I was in. In the short 5 minute span Josh confirmed that the Lord had been working on his heart as well and that he agreed that we should stop all forms of communication. And that is what we did. Just like that. We decided that we would talk at some point after I was done with this HLF tour.
Now one thing you must understand before I go on further. During His Little Feet's (HLF) time on campus at Ellerslie, Josh and I did not interact. We were both busy about the Lord's work. So why this next part of the story is, I honestly do not know. You see, these precious little children liked to match people up. This Auntie with this Uncle, this Uncle with this Auntie and thus a handful of them chose to match Uncle Josh and Auntie Brooke up as the perfect match. Why? I cannot tell you. I wish I could but I heard this "match" all through the tour. Auntie Brooke, me, would have none of it and would try to convince the children otherwise but the more I mentioned how adamantly I was against it the more it rose.
A few days after Josh and I officially stopped talking. One of the older girls in the choir and I were talking at night. We had finished the devotional for that evening and our prayers and we were talking, she was sharing her thoughts with me about what we had talked about in the devotional and such and then all of a sudden she said, "Auntie Brooke, I am going to prophesy." I looked at her, playing along, "Oookaaay…" this sweet girl, who had become so so dear to me simply and confidently stated to me, "Someday you are going to get married to Uncle Josh. You will be so happy! And then when you come to Haiti you will come tell all of us children and you will look at me at say, "You were right!" and we will all be so so happy for you and Uncle Josh." I was quite shocked at this statement. I really didn't know how to respond. I don't quite remember what I told her in response, something along the lines of, "I highly doubt that my dear. Now rest, we have talked way too late tonight."
I honestly don't remember thinking much about Josh during the days that followed after our 5 minute talk. I was completely focused on the tasks the Lord had given me….working at them with everything in me, as unto Him. As moments melted into days and days into weeks every once in awhile while I was working or praying a thought would surface. "Maybe you should start praying about the possibility that Josh may be your future husband." or "What if he is the one, pray about it." and everytime I would push the thought far from me, rebuking it in fact. "In the name of Jesus, that thought is a distraction, and I will not be distracted from the work God has placed before me." But my Lord kept placing the thought in my mind, gently, lovingly. My memory brought up the instance of the day I had given Josh "a hug" (See Part Three of our story about "the hug") and how repulsed he was, "Oh! What would he think if he knew I was thinking about praying about him possibly being my future husband!?!" Knowing him, any friendship we may have would be gone in an instant if he knew what I was thinking about praying about. And then, one obscure day, I began to pray about the possibility, letting Him search my heart, letting Him to show me His desire…letting Him slowly awaken my heart, though at the time I had no idea that is what He was doing…
The time of the 2010-2011 HLF tour was coming to an end, and the 100 Wing on the Ellerslie campus was full of life as all of us were hustling here and there preparing for our journey to Haiti to bring the children back to Danita's Children – Hope for Haiti. We had arrived back to Colorado from tour and Josh and I still had not talked though we had run into each other (not literally) several times. May 30th came…everyone bustling around checking off all the things on our to do list. We were going to Haiti! Somewhere around 11 o'clock us HLF staff were done preparing everything for the children and our sweet little worshippers were sound asleep in the rooms above us. It was our turn to pack our things. Right before I went in my room to pack Josh walked up to me and asked if I would have time to talk for a bit before I left. I informed my friends where I would be and walked out on the front porch of the 100 Wing. We sat there on two chairs and talked about what the Lord had been doing in our lives, just as if there was not a 4 month gap of no communication that we just had. 30 minutes later I went back inside and continued to pack. A few minutes later my phone beeped letting me know I received a text. It was a text from Josh, the short sentence made me confused and curious…and a little nervous as well. "Can I talk to you one more time, I have something to say, and I feel like I would be disobedient to Him if I didn't say it." "Yes," I responded. I began slowly walking to the door…
May 31st, 2011 – 12:07 a.m. (approximately one year to the day since we first met.)
…as I opened the door Josh was already there sitting on the chair he was before, as if he hadn't moved, not expecting him to be there I jumped, startled because I had startled him, not a small feat to startle Josh. Immediately, I knew something was up. The air was thick of ….something I couldn't name. I slowly sat down. Josh was leaning his arms on his knees, hands clasped, looking at the ground. He inhaled, exhaled, took in yet another breath, looked at me and exhaled…I could tell he was trying to find the right words…
"God has been speaking to me about our friendship, and I believe that we are supposed to pursue a relationship intended for marriage together."
Silence. Shock. A smile. A nod. Speechless.
I saw Josh searching my eyes. Looking for a hint of anything. Trying to read me. I nod, unable to say much, (Come to find out, I don't function well under shock :P)
"I will pray about it." I said.
And then it was over, five minutes or less and I was just presented a life-altering question! I go back to my room to finish my packing, my mind shocked and swirling! Thoughts. Prayers. Three hours later, I left for Haiti. I waved to Josh and all the other Ellerslie student sending us off. We get on the bus and Aaron, Josh's brother, who also travels with HLF handed me a stack of letters and in a confused tone and a shrug said, "Josh gave these to me for you." Letters in hand, swirling mind, a soldier in the service of her King, destination: Haiti.