(From Josh's Perspective)
After the Alpha semester of Ellerslie, both Brooke and I went back home. Her just south of Denver, Colorado. I go back home to just north of Fresno, California. For the few weeks I was home Brooke and I kept emailing. All I wanted to do is be a Godly example of a guy while making friends with a most extraordinary girl. I knew in my head when the time was right I would lose our friendship when her future husband comes along to sweep her off her feet. There were absolutely no intentions on my part until quite some time later. I was after a friendship that would be God-glorifying and encourage me on the narrow road of following Christ while I practice cheering another saint on down the narrow way.
When I arrive on campus, my room-mate and I plunge head-first into the huge undertaking of filming the sessions that Eric would give during the next semester. I would be in my room for hours researching the correct equipment for filming, and still trying to seek after Christ with the same intensity that I had been the first semester. While I was doing this, I was awakened to my previous church's desperate need of revival, and also my own personal need of revival every second of every day. I was praying about how this might come about, since I was at Ellerslie and the church was in my hometown. Around this time my parents, without my prior knowledge had asked Eric and Leslie to speak at my church. Eric and Leslie agreed and my mom started planning for the conference. I had emailed Brooke about the conference my mom was planning and asked her to pray for it to be the start of revival that my hometown needed. I was planning on flying out to be of help in any way that I could.
Around this time was when Brooke got back to Ellerslie for the start of her His Little Feet journey. Brooke and Kelsey (a mutual friend of ours from first semester) started hanging out around this time. I remember the times that we would go and talk at Loodles and how they were just continually pressing me towards my King. We would pray together, open Scripture together, and discuss things that Jesus was doing in our lives. I remember these times to be so precious to me, and just like I prayed over the emails I sent to Brooke, I prayed over these times of fellowship. During this time, contrary to what you might be thinking, I had no interest for anything but a friendship from Brooke. The same went for Kelsey. I was enjoying company from a like-minded group of people.
I remember getting an email from Brooke asking if both her and Kelsey would be able to come along with me when I flew to California for the girls conference. There were a couple people from the first semester that were going to be there in CA for the girls conference as well, so I thought nothing of them coming. They were in it because of the mini-reunion of Ellerslie students that we would have at the conference. After the plans came together, we ended up leaving for CA on September 30th, 2010. (A significant date that we will explain in a later post! 🙂 )
Before the conference, we were awakened to the need of prayer for fighting for things in the Heavenlies to be brought to earth. Brooke was going to intern with His Little Feet for a year. The plan for the ministry was to bring in children from Haiti and go around the nation to bring awareness to the plight of over 160 million orphans around the world, and also to share the unaltered Gospel with the churches at which they performed. After returning from the conference we were expecting the kids from Haiti to come at any point, and when I got the call to go film their arrival in Denver in November, I was elated. During this trip to and from the airport I got to witness and document on camera many "firsts" for the kids. First sighting of snow, first snowball fight, first Chick-fil-a meal, and the first time these kids had seen an entire campus of Ellerslie students that battled long hours in prayer, and had such a Christ-like love for each and every one of them. I remember talking to the students at lunch tables after the kids had arrived and each one telling me that a different kiddo had a nook in their heart. These kids had a spiritual family at Ellerslie and it was an amazing privilege to witness.
After the kids arrived and Brooke went on tour, I wanted to maintain our friendship as she was on the road, so we would talk on the phone for a bit each week, asking about prayer requests and rejoicing in Jesus for the praise reports of these kids. I remember her explaining some salvation experiences for some of the kids and me just weeping on the other end of the phone. During Brooke's time on tour, because of some not-so-pretty things Kelsey, Brooke and I went through at Ellerslie in regards to our friendship, I wanted to be careful in mine and Brooke's friendship. I wanted to make sure her future husband would be honored in my interactions with her. I kept placing myself in his shoes. "If my future wife had this kind of friendship with another guy, would I feel infringed upon?" I kept that in the back of my head during this entire season. During this time I drew utterly closer to Christ by myself. If I had one word to describe this season it would be "Brokenness." Christ was breaking me and forming me even closer into His image than I ever thought possible. During this time I felt that I was supposed to lay my friendship with Brooke on the altar – just like Abraham and Isaac. And as Abraham put Isaac on the altar and forsook him, which means to completely turn away from, I was supposed to lay my friendship with Brooke on the altar.
(From Brooke's Perspective)
After the Alpha semester at Ellerslie I journeyed back home for a little bit, to spend time with my family before the Ellerslie Advanced Leadership Training started and before the first group of the His Little Feet children came here to Windsor, Colorado from Haiti. During my time at home Josh and I continued to correspond via email Oh, what an encouragement he was during that time, he always pointed me to Christ and continued to turn my gaze to the wonder of my King. I longed to do that same for him, point him to his King and challenge him to dive to depths he has never gone to before!
During one of Josh's email he mentioned in passing that Eric and Leslie were going to have a Set Apart Girl conference at his church in California, "I've been praying for a revival in my church. Maybe this is the time!" I was excited at this news and there was a pull that I can't really explain, a little nudge inside of me. Josh also mentioned that a few of my Ellerslie sisters who lived in California were going to help Mrs. Kinabrew (Josh's Mom), Eric, and Leslie with the conference. This nudge grew and I began praying about the possibility about going to help. I approached my parents about this possibility of going out to California to help with the conference if they needed any more help. I prayed for His will and guidance and it soon became clear that I was going to go. This in itself can become a huge story but long in short on September 30th, 2010, Chelsea, Kelsey, Josh, and I all got on a plane in Colorado headed to California…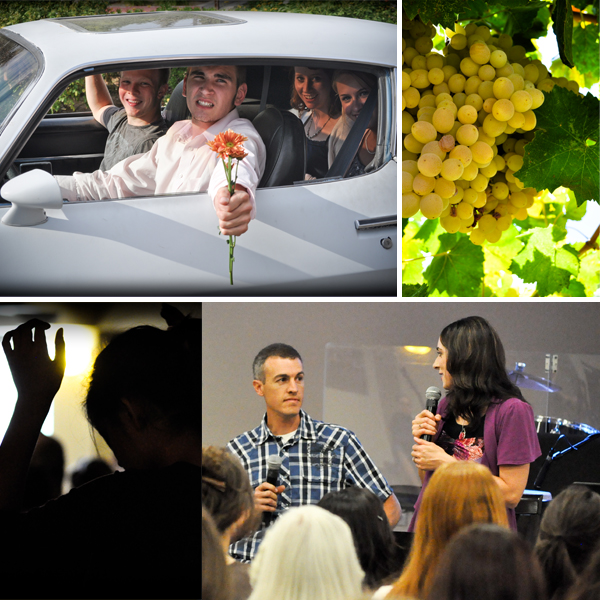 After our time in California the four of us returned to Colorado for the Ellerslie Advanced Leadership Program. From October 4th to November 14th I was immersed in the Word, going to classes, and preparing the dorms for our Haitian children who would arrive soon! We weren't sure when the children would arrive, Mike and Christa Hahn (the founders and directors of His Little Feet) had been down in Haiti getting all the legal paperwork finished to bring the children here to America for many, many days. We were an expectant band, there at Ellerslie. We had a 24-hour prayer vigil, just praying our children in!
A vital part of this story, which may not seem like one at this moment (but trust me, it will play a vital part later on in this saga) is what Josh and I refer to as *the hug* 🙂 Intriguing huh? One day I was headed for Kelsey's room, her room was my second room (I was over there all the time) when one of the Ellerslie students saw me and asked with a joyful tone, "Can I give you a hug!?" Thinking she was going to give me an actual hug, I said, "Yes." As I was ready for a "real hug" she then proceeded to hand me a Hersey chocolate *hug* this little candy is just like a Hersey *kiss* but it says *hug* instead of *kiss*…surprised and smiling I went and told Kelsey the story. Soon after an idea was formed. This idea involved me (because it would be more surprising coming from me, apparently.) asking and giving Josh a *hug* 🙂 So, Kelsey, Josh, and I (a couple hours later) were sending our friend Bri a birthday package. We all headed to the post office to mail Bri's package (the Hersey *hug* hidden safely away) as we were piling out of the car I turned to Kelsey and asked her, "Should I give it to Josh now?" Well, of course, Josh was immediately curious and had no idea what I was talking about, nor what was going to happen to him next. Needless to say the farthest thing from his mind was me asking him if I could give him a hug. Which is exactly what I asked. This part is hard to express with words, a little video of the moment would have been nice. Josh, who is extremely hard to fluster became extremely flustered! Panic, shock, and horror all registered on his face all at once, it looked as if he was about ready to bolt! Trying to calm him and apologize for all the emotion that was written on his face in the matter of a moment I quickly pulled out the half-melted Hersey *hug* from it's hiding spot and quickly explained that this was the *hug* I was talking about. Nothing else. Josh, again, who NEVER gets flustered, was flustered for at least 30 to 45 more minutes while we continued running errands. Josh, is the type of guy who is all in or all out there is no luke-warm for him. He is passionate for what he stands for and is willing to be against the world if it means following the path the Lord has placed before him. I admired (and still do) this attribute in Josh. Josh had no thought of anything between us but a friendship, nothing beyond that. So, when I asked him if I could give him a *hug* the memory of his reaction was ingrained in my mind.
The moment I found out the children were on their way to America is one of those moments that will forever be frozen in my memory. Kelsey and I were walking across campus late one evening when Jenn and Kala came running out of the His Little Feet wing, also known as the Victory Wing, Jenn grabs my shoulders in delight and exclaims, "They are coming!" I remember standing in the middle of the frozen path in the chilly night air in shock! The children are coming! It began sinking in! Oh, what joy and excitement! The last minute preparations were made and we were ready to welcome our Haitian children! After Mike and Christa were in Haiti for 80 days, the time had come to welcome these dear children we fought for in prayer…what a joyous day that was!
From the time we arrived back on campus from California in September to the time the children arrived, Josh, Kelsey, and I would do things together such as just hanging out, talking of our Lord and things He had been revealing to us, going to a Loodles, a coffee shop in Windsor, and studying, et cetera. Once the children arrived on November 14th my life at Ellerslie drastically changed! It went from almost 24/7 of studying His word and quiet time alone with the Lord to, 24/7 motherhood, literally overnight! That in itself, was an adventure! 🙂
It is hard to sum up tour in just a few words let alone sum up how the Lord was intricately working in the midst of my life and heart during this time.  During this tour I was stretched beyond myself. I had to fully rely upon my Lord like I never had before. And as I look back it was simply another layer to what the Lord had for me to transform me into His likeness. The vision of this tour, for me was encapsulated by a verse that the Lord gave me while praying one day, it's found in 2 Corinthians 2:14 which says, "But thanks be to God, who in Christ always leads us in triumphal procession, and through us spreads the fragrance of the knowledge of him everywhere." This tour, the beginning of the His Little Feet International Children's Choir, was called to spread the fragrance of the knowledge of our Lord and His heartbeat everywhere He led us. And He did just that. There were many wonderful memories and stories from this 2010-2011 tour.